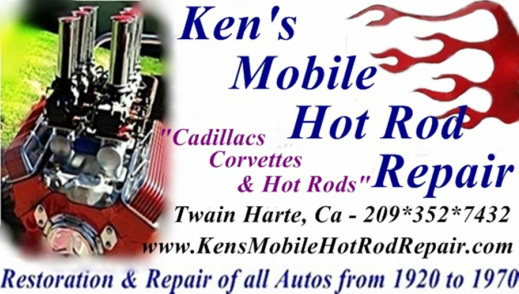 @ Kens Mobile Hot Rod Repair, I bring Professional Collector Car Care to You.. at Your Home or Place of Business... Where ever you have adequate space.... Your Car Never Leaves Your Location.... You Know Exactly Who is Doing What to Your Hot Rod! I Take Pride in My Workmanship, I am an "Old School - Car Crafter"

"My Cars"
1952 IHC L-112 "Shop Truck"
'58 283 * Richmond Super T-10 * '69 Ford 9" Rear
Pioneer CD * '01 GM Seats & Belts * 12v conversion
1923 "T" Bucket
1960's"Cal Auto"body * 283 * 3 speed * 3 Deuces

"Home-Base" is located about 3,650' up in California's Snowy Sierra Nevada Mountains, in Twain Harte. My Mobile Hot Rod Repair Service covers customers within a 100 mile radius...

Low, Flat-Deck Trailer for moving Customers Cars or Parts.......
Portable Welding and Lifting Equipment.........
No Car Too Old * No Model Too "Obscure" 1920's thru the 1970's
Hot Rods * Rat Rods * Restorations * Nostalgia Race Car
*Suspension Modification & Restoration - Muscle Car * Street Rod * Race
*Electrical Wiring - Troubleshooting & Repairs * Updates * Modifications
* Complete wiring harness * 12v Conversions
*Engine Swaps * Engine Rebuilding & Modifications

Projects Welcome... I can take over at ANY stage....